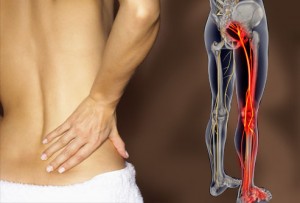 Sciatica Symptoms
Pain that radiates from your lumbar spine (commonly known as the low back) to the buttock area and down the back of your leg is typical of sciatica.  Although you may feel discomfort almost anywhere along the nerve pathway, the pain is likely to go from your low back to your buttock and the back of your thigh and calf.
The pain can vary from a mild ache to a sharp burning sensation or a jolt of electrical pain.  It can be worse from a cough or sneeze or prolonged sitting.   The pain is generally only one sided.
Some people have numbness, tingling or muscle weakness in the affected leg or foot.  If you have any of these symptoms, don't delay your sciatica treatment.  Delaying treatment of sciatic nerve pain or various types of other pinched nerves can cause permanent nerve damage if delayed too long.
Sciatic Pain Relief
To relieve sciatic nerve pain a series of adjustments to the vertebrae putting pressure on the affected nerve(s) are required.  Our Spinalator traction table assists the body in getting more fluid into the disc which helps relieve pressure on the nerve as well.  If a disc bulge is suspected of causing the sciatic pain, Cold Laser Therapy may be added to your treatment to help the damaged cells heal better, quicker and produce more anti-inflammatory chemicals.
If you're suffering from sciatica and need a chiropractor near Elizabeth, McKeesport, Clairton PA or other nearby areas, don't delay, call us today! (412)673-0990